Sanah Sharma has recently launched a new website The Wardrobe Strategies.
The website allows you to shop by category, brand, style and even personality.
---
"Strategies are looks we create with products featured on the site to help you look fashion forward without having to think about 'what to wear with what'. These looks give you an idea as to how to play with different styles and team up different products to look contemporary and voguish.  The Strategies have been classified into  Casual Day Wear,  Evening & Party Wear and Formal Work Wear."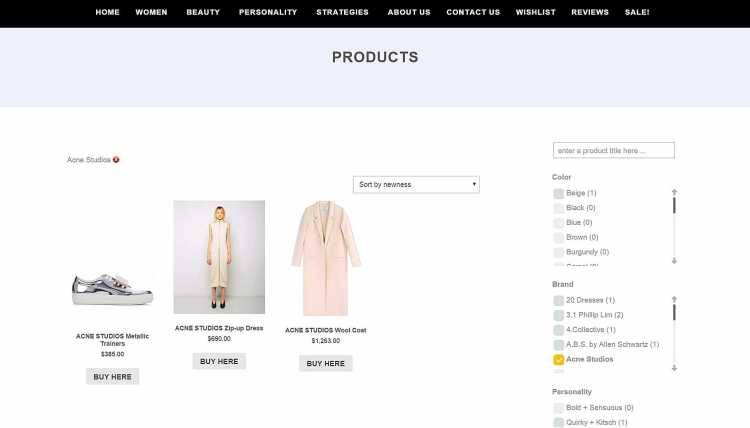 One unique feature of this site is the WishList.  It allows one to shop various fashion items by color, brand and personality.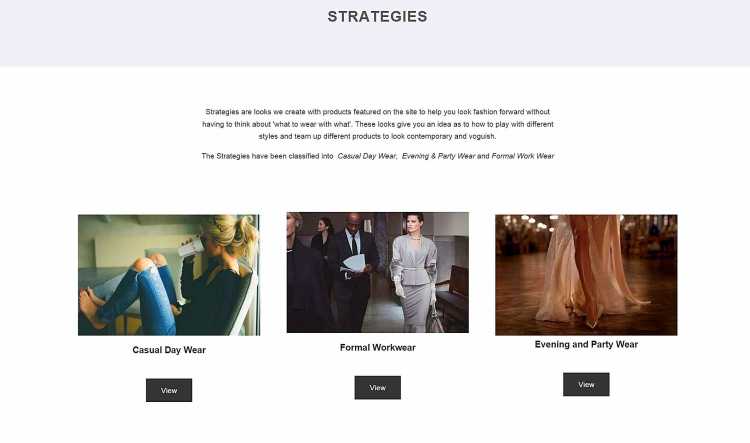 Sanah is a professional designer from India, who was awarded the Most Innovative Collection and Best Academic Performance for her graduating portfolio fashion show. Today she is a freelance designer, artist and blogger who has been associated with Myntra, Pepe Jeans, Phoenix Market City, Rfd and many others.
She is a firm believer in the power of writing and words and loves fashion, illustration and art.
She also loves blogging and authors the blog, Sartorial Society. The blog about "the world of fashion, beauty, art, travel along with an insight into the creative oeuvres of the author."
---
"My love for fashion grows with every passing day. To me fashion is more about the wearer than the creator."
---
With The Wardrobe Strategies  we aim at creating a platform that is completely consumer-centric. We aren't selling these products on our site hence our choices are absolutely unbiased. We handpick only what is best for YOU." (The Wardrobe Strategies Website).
I recently contacted Sanah on her latest website launch:
You have just launched a new website The Wardrobe Strategies. Can you tell us more about this venture?
Online shopping has picked up tremendously in the last few years since it's more convenient and one doesn't need to waste time commuting, plus the filters make it easier to search for a specific item. However, today there are so many sites that one ends up spending hours searching for the right product. That's where The Wardrobe Strategies comes in.
It's a site that makes your shopping experience easier and more enjoyable. We curate and showcase the best products available across different ecommerce platforms (both Indian and international) on our site, thereby saving you time. It's a completely user-centric website where we provide the option for shopping by your personality because as fashion-lovers we believe clothes are a reflection of who we are. So the products on the site are categorised based on personality by our in-house psychologist who analyses and determines which personality it caters to best. Also we create looks or 'strategies' using the products showcased on our site to make your styling decisions easier.
Eventually, we would like to be a part of the affiliate programs that these websites offer and although some international sites don't have affiliate programs in India we still feature their products as for us the customer is of utmost importance and we want our users to have access to the best, even if we aren't benefitting from it.
In the long run, we plan to start our in-house brand of clothing which will be exclusive yet accessible by all segments of the market and in sync with global fashion trends.
What is your background in fashion?
My love for fashion began very young at the age of 11 when I started hand stitching clothes for my dolls. I opted for Fashion Studies as an additional subject to go with the science stream in high-school. As a topper in Fashion Studies I received a gold medal from the State Governor, one of the best moments of my life. Post that, I did my 4 years Bachelor's programme in Fashion Design from Pearl Academy, one of the best fashion institutes in India and validated by Nottingham Trent University.
I've always believed that self-learning will teach you a lot more than sitting in a classroom can which is why I spent a lot of my time doing extensive research on new techniques and tried experiments of my own. I finally got a break-through in my final year where I created my own innovative method of garment-making which is now in the process of copyrighting. Most methods that I researched had one common drawback- too much fabric consumption. I created a technique that amalgamated my knowledge of science and fashion to create an intelligent method that yielded a voluminous layered output with unbelievably minimal fabric consumption. I also plan to write a book and conduct workshops to create awareness about this method.
Additionally, I was awarded the Most Innovative Collection and Best Academic Performance.
Are you still living in India and how is life there?
Living in India is a huge advantage yet can be very challenging. The cultural diversity is an inspiring paradise for any artist or designer. Also it has a huge market of more than a billion people. The challenge is the fashion scene. In India, fashion design is not considered an intelligent profession like engineering and law, though now that mind-set is slowly changing. I wouldn't blame them because anyone can start a boutique, employ a tailor and generate business without any formal education in the field. Which is exactly the reason I wanted to bring in innovative ideas and methods.
In my opinion, a design student's foundations and basics need to be strong enough for him/her to challenge them in a justified manner through his/her work. The kind of education model that you would find in Japan's Bunka Fashion College is what will generate designers who are distinctly different from the rest. That should be the sort of education we can provide in the Indian institutes as well. It's time India moved from a land that is synonymous with just textile and embroidery to one that can fashion intelligent ground-breaking chic clothing, and I intend to contribute to that change.
What experiences have you taken from your studies in fashion to the real world?
The most vital skill that design school teaches you is multi-tasking and thereby time-management. It's a balancing act between doing research, analysing your market, designing your collection, working on graphics, creating a portfolio, getting the styling right, knowing the kind of photoshoot and advertising you want…this is the skill that actually gets you through in the real world where the deadlines are crazy and work hours are erratic.
Presentations and group assignments also prove to be very useful because the learning process is quick and enjoyable. It builds your communication and people skills, and there's also so much to learn from your peers. That again is important to keep in mind while working in the industry
You started your blog as part of a college assignement. How has your life changed since college?
College is still a much protected environment and the creative freedom given is something you must enjoy while you can. I was very certain that I wanted to do something on my own after college and didn't want to get stuck in the rigmarole of a 9 to 5. I worked as a freelancer and did my spade work regarding my own business. When I decided on The Wardrobe Strategies, I had a vision of what I wanted- this was my baby and so I built the entire site myself (my computer and software skills came handy). The transition from student to entrepreneur is still sinking in but I'm living a life where I go to bed waiting to get to work the next morning and that is an amazing feeling.
What have your learned most while working in the fashion industry?
Clothing is the second largest industry in the world and like any industry, there's competition. I'm still very new so I'm still having my experiences. However, what I have enjoyed seeing is the mutual sharing and acknowledgement that is visible across social media platforms. It's like a barter system which I think is great! Also like I mentioned above, peer learning is one of the best ways to gather information. Someone once told me 'people learn from their mistakes and the wise learn from other's mistakes'.